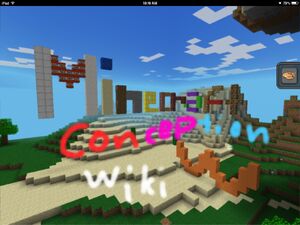 Welcome to the Minecraft Conception Wiki
Hello, minecrafters! The game made by Mojang, alongside with Java is a huge success! Want more? We want you to use your own imagination to imagine what would be Minecraft with your ideas! If you can't code (101101101) or you're not sure if some of your ideas are even possible (spheres!?), or even, make a redstone invention (SethBling, you there?), put em' here! Whether if it's a mod, a map, a block, an item, anything that's Minecraft related! We are Minecrafters, let your imagination go wild!
If you need some help, tell something, report something, give a shout-out or have a fact of Minecraft you know, just talk to the Creator or Planterobloon!
We look here for our top 4 most important/popular categories: Items, Mods, Adventure Maps, and Blocks!
And our 2 new categories that no other fanon/conception/idea wiki thought of will be introduced to Minecraft: Bloon Mobs and Beverages!
BTW, where are the galleries?
Fun Facts
Did you know...
That bedrock can be blown up in Vanilla? It takes an explosive power of 30 million (as opposed to 4 from TNT and 7 from the Wither's creation) to do it.
Sumbit more fun facts by asking in the Creator's message wall!
Latest Updates on the Wiki
Congratulations! You now have access to play forum games again! Although it's a bit late.
Shout-outs
The Shout-outs have been cleaned. Talk to me if you want to have a shout-out, since the wiki creator is long gone. Shout-outs will now be cleaned every 30 days.
Poll
January-April 2015's Poll Results:
The winner is...
MAKE CONCEPTIONS! (cue Kermit scream)
May 2015 POLL!!
Latest activity
Community content is available under
CC-BY-SA
unless otherwise noted.